Kodak Capture Pro Software
Simplify scanning. Automate indexing. Maximize connectivity.
Paper. It's not going away. You have forms, documents, records and much more. Make your paper more productive with Alaris Capture Pro software. Securely and reliably capture and share information across your business. Alaris Capture Pro software quickly converts batches of paper into high-quality images – the foundation for accurate, streamlined data and decision making.
Capture Images in High Quality
Get crisp, clear images, no matter how challenging your originals may be. Perfect Page technology optimizes image quality with 30+ enhancements automatically – with every scan. Dual stream scanning captures two images at rated speed, giving you an OCR/OMR optimized black and white image and a archive-ready color image, in one scan.
Extract and Index with Confidence
Prevent post-scan rework with tools to validate accurate capture. Intelligent Exception Processing lets you immediately identify missing information on a document, like a signature. Intelligent Quality Control automatically flags questionable information for review.
Ensure Process Integrity
Securely and reliably capture ad share information across your business. High quality imaging delivers accurate data for business applications. Share job setups across the organization to maintain standard capture, index and routing rules for compliance. Alaris Capture Pro software can be installed on local workstations, and can be used without an internet connection.
Optimized to Work Together
The Alaris IN2 Ecosystem comes to life when our scanners and software work together, with tight technology integration. Capture Pro works seamlessly with scanners from Alaris, with intelligent features that improve customer workflows.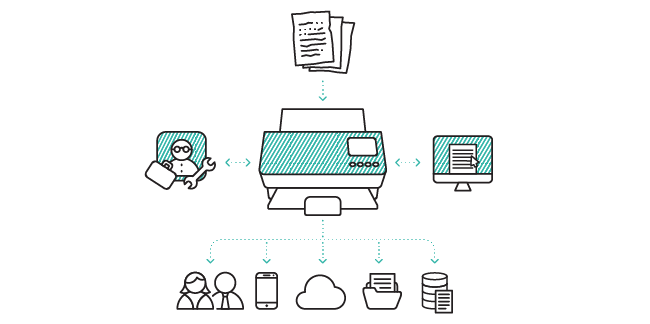 Separate Documents Efficiently
Reduce manual document prep time spent on pre-scan sorting with features like Intelligent Job Select – automatically switches jobs and profiles while scanning large batches, with reusable patch sheets.
Automate How You Route Information
Send information directly to ECM systems, Sharepoint, and secure FTP. Use Intelligent Barcode Reading to automatically read barcodes, extract, index and route data.
Contact us to schedule a demo or learn more
Get a Quote
Give us a call to get a quote as soon as possible. You will receive a quote same business day if request is received by 5pm EST. Otherwise, use on the form on this page and we will get in touch within the next business day.
---
Our Office